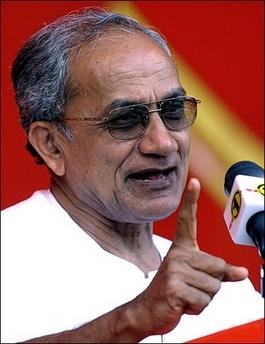 Looks like JVP has come out of its prolonged hibernation. New posters are plastered all over the city, ostensibly by so called 'Inter University Student Federation' but don't we know better?
 
'Rata pura upadhi kada vasa damanu!' they say. No kidding. They want to stop all 'boutiques that sell degrees'. Will the opposers get the same treatment vice chancellors Prof. Stanley Wijesundera and Prof. Patuwathawithana got? Dunno. On the brighter side, this is better than demanding to stop all those boutiques selling lunch packets. Otherwise, we would starve.
 
So why this sudden interest? Has JVP suddenly discovered that somebody selling degrees on the road side as one would sell string hoppers? Or is this the (n+1)th new phase of their age old battle against the private investments in the education sector?
 
Bulk of JVP MPs (except a handful like Sunil Handunnetthi) have never seen a university lecture room, unless they have dropped in when raining. Lots of them are O/L dropouts who could not complete their education. They are 'ata-pass' only because there was no examination at Grade 8. So one would wonder why these good gentlemen have such a keen interest in university education. 
 
Anyway, these are few other questions that come to the mind of anyone. Publishing them here does not mean anybody expect JVP to answer them.
 
o       Why this protest only against 'selling tertiary education'? Why not demand all 'boutiques that sell education' (be it school education, diplomas, vocational training etc) be closed? Doesn't JVP know that more than 75% of the school children in Sri Lanka now attend private tuition classes?
 
o       What is wrong in private investments in education when it is clear the state cannot provide quality university education to all the students that rightly deserve it?
 
o       If JVP wants the degree boutiques (upaadhi kada) to be closed, what do they want upaadhi dan-sel, the service sector version of what we see for vesak and poson? What guarantee JVP has on the quality of the education provided by these upaadhi dan-sels?
 
o       When they formed the 'sandhaanaya' government with the PA in 2004,  JVP promised the people of this country (by their 'rata perata' manifesto) that they would uplift the university education and especially start new six universities. May we ask what happened to these six universities? Did bahiravaya ate them all?
 
o       What right JVP and opposition political party, to demand to stop any legitimate and ethical business run by somebody? Will they tomorrow demand all boutiques that see lunch packets to be closed?
(Contributed by a guest writer. Open for discussion)